Edwin Attaway
Senior Pastor/Elder
Edwin became the Pastor of Flint Hill in August 2017. He is married to Hannah and they have three children. Prior to coming to Flint Hill, Edwin served for nine years as a pastor and church planter in New York.
Gavin Brown
Worship Pastor/Elder
Gavin is married to Lori and has four children. He has been on staff since 2002 and is primarily responsible for the music ministry at Flint Hill. He also maintains the church website, films & edits video, and writes & arranges music for congregational use and for special events. Gavin attended the University of Mobile, where he earned a degree in musical composition, and after that, Liberty Baptist Theological Seminary, where he earned an M.A. in Theological Studies.
Jennifer Hays
Jennifer is married to Matthew. She has a precious daughter named Ava and a puppy named Lily. She attended Southeastern Bible College where she earned a degree in Bible/Theology with a minor in counseling. She previously served on church staff at two local churches. Jennifer leads the children's ministry at Flint Hill, encouraging the children in their walk with the Lord, and helping encourage families to grow closer to each other and to God.
Brian McDuff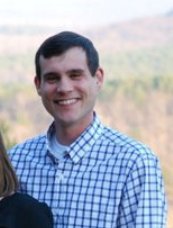 Brian
serves on our staff in the area of Student Ministry, and brings more than 15 years of dedicated experience in this field. He and his wife Allie have two boys named Tucker and Max.
Brian
has a ministry philosophy of equipping others to make a difference to see the miracle. The miracle of making disciples! With a degree from the University of Alabama at Birmingham, he has built on his educational background to find innovative means of reaching students and families. This is Student Ministry, so of course it is going to be exciting!
Brian
and Allie work hard everyday to not just meet the needs of the students at Flint Hill, but to impact all students in the surround area.