Edwin Attaway
Senior Pastor/Elder
Edwin Attaway accepted the call to serve God at Flint Hill in August, 2018. He and his wife, Hannah, moved back to Alabama from New York state where Edwin was a pastor and church planter for nine years. Edwin graduated from the University of Mobile with a degree in Religion before earning his Master of Divinity from the Southern Baptist Theological Seminary in Louisville, KY. He is passionate about discipleship and bringing Scripture to light in life-changing ways. He loves Braves baseball, Alabama football, and Jim & Nick's barbecue. Edwin and Hannah have three kids who keep them on their toes.
Gavin Brown
Worship Pastor/Elder
Gavin is married to Lori and has four children. He has been on staff since 2002 and is primarily responsible for the music ministry at Flint Hill. He also maintains the church website, films & edits video, and writes & arranges music for congregational use and for special events. Gavin attended the University of Mobile, where he earned a degree in musical composition, and after that, Liberty Baptist Theological Seminary, where he earned an M.A. in Theological Studies.
Camille Honts
Minister to Children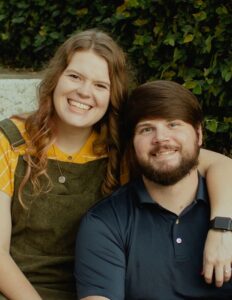 Camille is engaged to Walker Mason and has an adorable labradoodle named Luna! She graduated from Samford University with a BA in Religion in 2016 and graduates with her MDiv from Beeson Divinity School in December 2021. She worked at CentriKid Camps for the summers of 2013,2014, and 2015 before working at Kids Kamp at Shades Mountain Baptist Church for the summers of 2016, 2017, 2018, and 2019. During the summers of 2018 and 2019 Camille served as one of the directors for KidsKamp and was the Bible Teacher. She also worked at the Community Life Center of SMBC at their after-school program, After The Bell, from January of 2016 until December of 2019. During the 2020-2021 school year, Camille interned with the Children's Ministry at SMBC. During her free time Camille likes to go on walks with her fiancé and dog, nap, listen to audiobooks, or play board/card games! You will mostly likely always see her with her drink of choice, Diet Dr.Pepper!